Should I Testify? is about three women attending a workshop and comtemplating the decision as to whether to testify before the TRC.
The TRC invited representatives of women's organizations and the media to discuss how they could bring more women into the Commission hearing process.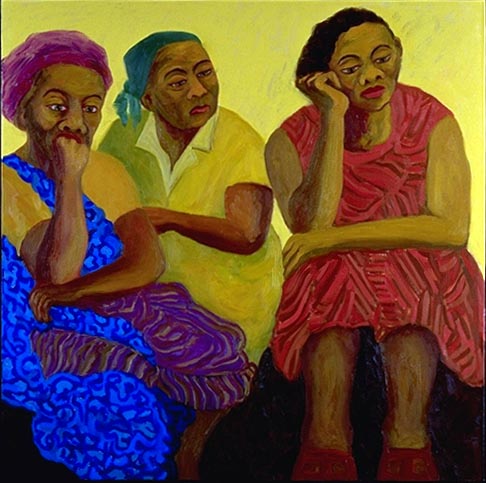 36" x 36" Oil on Canvas (2000) $2500
Three Special Women's Hearings were subsequently held - in Cape Town, Durban and Johannesburg. While women represented over half of those who testified at all the other hearings around the country, the TRC reports that:

"...the roles and capacities in which women and men spoke differed. ...while the overwhelming majority of women spoke as relatives and dependants of those (mainly males) who had directly suffered human rights violations, most of the men spoke as direct victims."

An analysis of 204 testimonies heard in the first five weeks of the Commission's hearings indicated that nearly

"... 60% of the deponents were women but that over three-quarters of the women's testimonies and 88% of the men's testimonies were about abuses to men. Only 17% of the women's testimonies and 5% of the men's were about abuses to women, with the remainder about abuses to women and men."

In addition to the TRC commissioners receiving training on gender related issues, the TRC was determined to provide a supportive role through special arrangements and processes to assist women in coming forward; these included:
| | |
| --- | --- |
| | Holding the three Special Women's Hearings. |
| | Women who were reluctant to speak directly were allowed to tell their stories aided by a group of other women in private. |
| | Women were allowed to testify before the women members of the TRC, only if they so chose. |
| | Women testifying could request that only women members of the TRC lead the evidence and ask questions; this was done to avoid feelings of intimidation and confrontation for those testifying. |
| | Women were allowed to have a 'wise woman' articulate the victim's story on her behalf. This was a person who was respected in the community, not necessarily known to the victim and who identified with the context of the victim's abuse and its effects. |
| | Women were allowed to meet the TRC commissioners prior to giving evidence and choose the conditions under which they would give testimony. |

Preparatory workshops were held in communities, especially rural ones, to prepare the witnesses to deal with the process of testifying, dealing with the media, etc.

Women's church groups were engaged to assist the women to tell their stories.

In rural areas 'permission' was obtained from village elders and/or chiefs prior to the victim presenting certain types of sensitive or personal testimony.